For Fera and Arief, it was all about the Sydney skyline.  Shortly after their engagement session, these two lovebirds were planning to pack their bags and move across the country to Perth to start their new lives together.  So, there was really only one place they wanted to go for their pre-wedding photo shoot: all around the Harbour Bridge and the Opera House, to capture the beautiful skyline and city that they had both fallen in love with.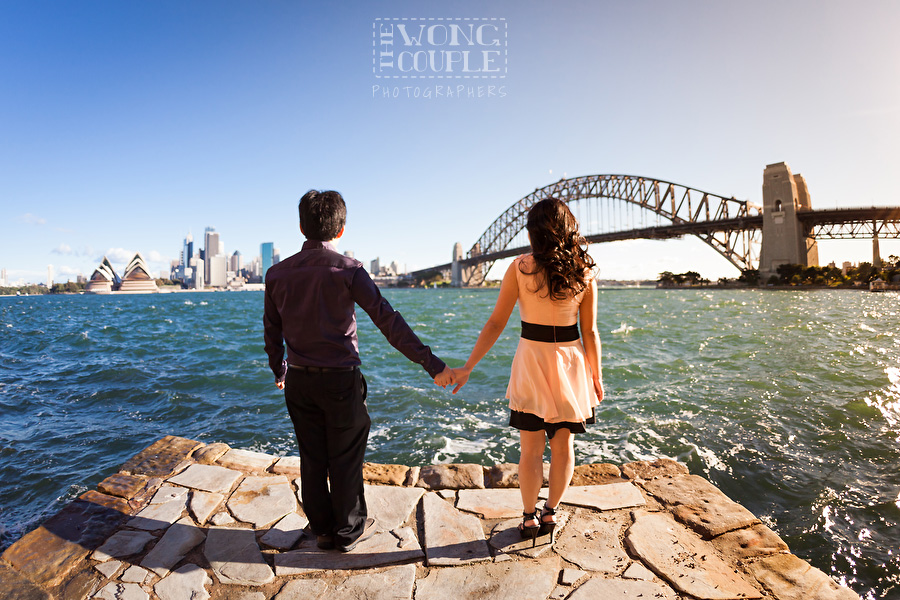 Their love story begins in Indonesia, where they knew each other as friends in primary school. Their paths diverged after primary school graduation, but years later the wonders of the internet and Facebook allowed them to reconnect again. When they did find each other, they were living on different continents, but a fateful job offer soon saw them both on Australian soil.  The 5,500 kilometer gap between them had been narrowed… to a mere 3,200 kilometres. Alas, they both had commitments in the two furthest-apart cities in Australia, but being on opposite sides of the continent didn't get these two down! They visited each other, and as their love blossomed, eventually Fera finagled her way into a remote work arrangement so they could be together in Sydney. At long last, they're planning to settle down together in Perth—that is, of course, after a wedding with family back in Indonesia later this year!
Fera braved the breezy winter temperatures and rocked this cute dress and heels. Any shivering that took place was worth it—she looked hot!



Even though it was cold and breezy, the sun was oh so nice. What a perfect winter's day to be out on the harbour!






Awww. Two cute lovebirds! ;)



The clouds on the day were picture-perfect.


A romantic ferry ride was definitely in order!

Are these two cute or what? Love this one of them:


At sunset, we took some time to climb around the steps of the beautiful sails of the Opera House. I love the way the sails seem to glow at twilight in beautiful pastel hues.


I'm loving this panorama. Click it to view it BIG!



These sunset silhouettes are some of my favourites from the day!




Congratulations on your upcoming wedding, Fera and Arief! We truly enjoyed our afternoon together. We wish you much joy and happiness, and a beautiful life together in Perth!