Are you ready for some Thursday cuteness?  Recently we had the pleasure of meeting baby Charlotte, who was just eight weeks old. During the course of the photoshoot she charmed us completely with her ridiculously adorable smiley face! Little Charlotte was quite intent on not sleeping at all on this day. She was just too interested in the new and wonderful world around her! Let us introduce you to this little doll. Isn't she the cutest little baby ever? :)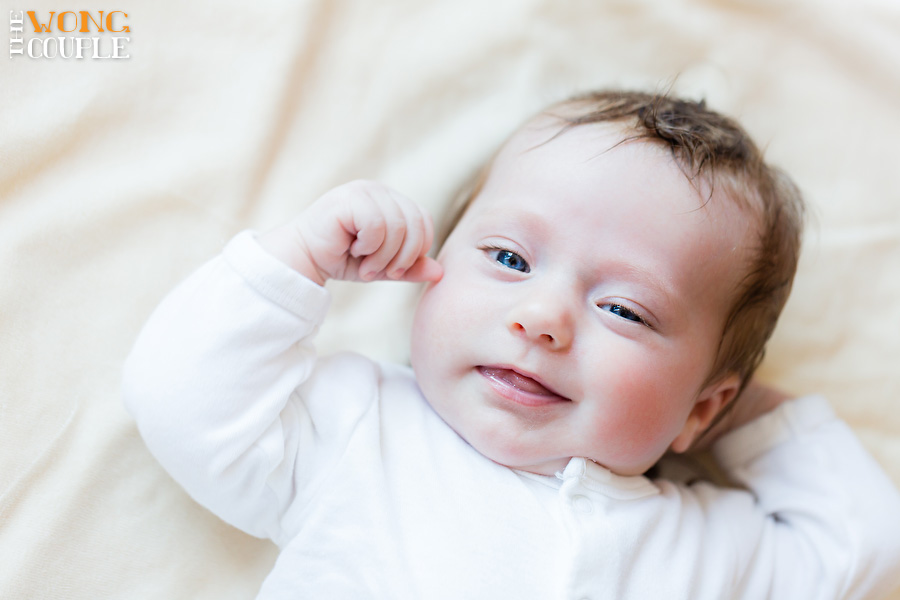 I can't get over those perfect little cheeks! Awww!

And her pretty blue eyes… so beautiful!


Charlotte seemed happiest when she was being cuddled by mum and dad. So sweet!


Her proud parents, Nina and Alex, seemed so in love with their new daughter. I love these next few shots of family cuddle time!


Such tiny features… baby hands and feet are always such fun to photograph.



Midway through the session, Charlotte finally decided to nod off for a few minutes. Awww. So precious.



Nina, you are gorgeous! What a beautiful family.

It looks like Charlotte got her mum's beautiful blue eyes!



Charlotte seemed to love her father's gentle caress. I just LOVE her little smile in this next one!

Now that Charlotte was wide awake again, we thought we'd let her try some tummy time. Toooo cute for words!


Charlotte's nursery looked adorable. Hanging over her crib was this special custom watercolour painting featuring her birth date. Adorable!


Ahhh, I just can't get enough of her adorable little face! :)

Charlotte seemed quite happy to have a little conversation with her parents on the changing table. Cute cute cute!

Nina and Alex, thank you for introducing us to the super adorable new addition to your family. We are so happy for you! For any friends and family of Nina and Alex out there reading, we'd love to know what you think of the photos!