We have a special treat for you today on the blog, with some of the sweetest newborn photos we've ever taken! We had been eagerly awaiting the arrival this sweet little ball of joy ever since her parents Cheryl and Luke contacted us. Her loving parents were overjoyed to welcome her into the world, and to discover on her birthday that she is a girl! Everyone, meet Lily, who was just eleven days old for her first photo shoot:
Isn't she precious?! So soft and squishy, and thankfully, very sleepy! She was such a good model! I just adore these shots of her father Luke holding her in a little ball.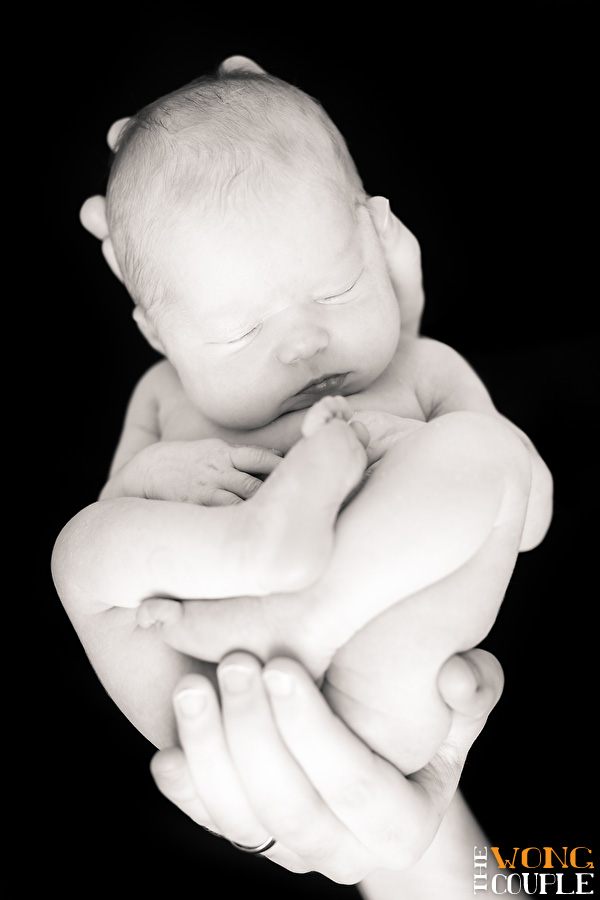 She even stayed asleep for this "hammock" shot. What a little doll! She has the loveliest red hair, just like her mum!


Lily looked absolutely adorable in this little bonnet that once was her mother's. I can't decide which one of these is cuter. Cuteness overload!

Since Cheryl and Luke had decided to keep the gender of their baby a surprise, they decorated the nursery with an adorable jungle theme. I think a jungle theme is great for a little girl!



Lily did wake up briefly for us, and we caught a smile! Actually, we've been told that 11-day-olds in fact can't smile yet and it just means that they have gas, but hey… I think she's smiling at her daddy!

Cheryl had told us that Lily loved to be held by her dad, and she definitely did. Luke was great at soothing her and she went straight back to sleep each time. Good job, Dad!

And here they are together. What a good looking family!

Mum and bub together… soo precious! You could so easily tell how in love Cheryl was with her new little one after just 11 days.

Lily kept her eyes closed almost the entire session. I wonder if she will have the amazing eyes of her mum?


You are beautiful, Cheryl!



I love this—just look at Lily's tiny little fingers. So sweet!

Gorgeous, just gorgeous!

Cheryl and Luke, we loved meeting your precious newborn and are so happy for you! Thanks for giving us the chance to capture these special memories for you. Friends and family of Cheryl and Luke, leave a comment below for the proud parents and let us know what you think of the photos! We'll notify you via email when the full gallery of images is available online.