They call it the land of the long white cloud. What a beautifully romantic name for a country.
New Zealand is a photographer's dream. It's also an outdoor enthusiast's dream. The land is rugged, wild and pristine; the air is amazingly clean and crisp. In New Zealand you can feel a world away from everything. You could spend 24 straight hours ice-hiking up the face of Mount Cook.  You could tiptoe through a pitch-black rainforest with your flashlight turned off, straining your eyes to see tiny blue glowworms scattered across the forest floor.  You could be the only person camping in a rusting campervan graveyard.  You could sit and stare at a milky turquoise blue lake for hours with only sheep for company.  You could spend all night gazing at the infinite sky. You can be high in the Southern Alps, and always be within 170km of the sea.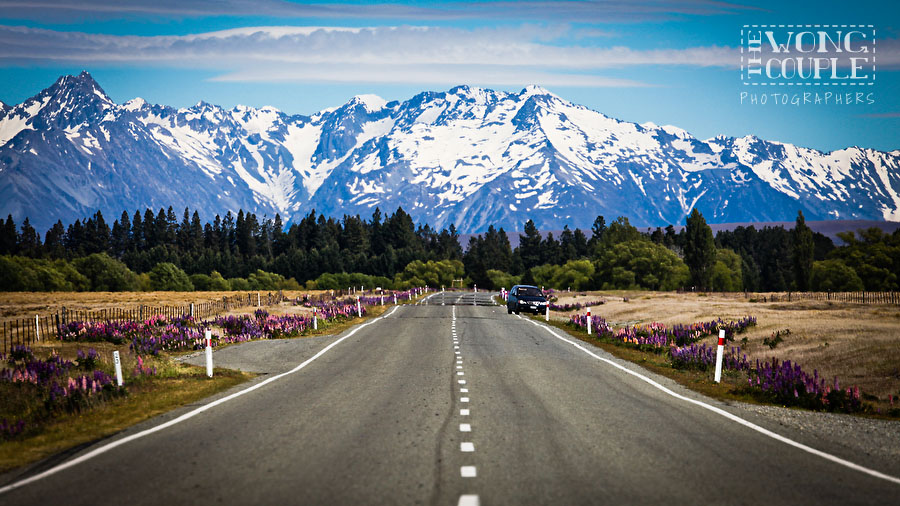 Ah, New Zealand. This was technically my third trip to New Zealand, although I can't really count my 2008 trip, where I stayed in a conference centre the whole time.  My last "real" trip to the land of the Kiwis was in April 2001, when my college buddy Sam and I travelled together in a bus for two weeks, backpacker style.  We tried our hand at hang-gliding, attended a trash-bag "costume party" at the local pub in a town of 30 people, stumbled drunkenly through the jungle looking for glowworms, and threw ourselves off of a bridge over Skippers Canyon. Ah, to be a university student. Good times!
But I digress. Yes, Jeff and I took this trip almost two years ago, but we promised we'd share it in our 2010 Recap, so here it is… our trip to the land of the Kiwis. We like to think our photography has improved quite a bit since 2009, so it was actually a pleasant surprise to revisit these photos because we liked so many of them!  Like I said, NZ is a photographer's dream… maybe it's just more difficult to take bad photos there.
Our first stop was Kaikoura, where we hoped to swim with the world's smallest species of dolphins, the Hector's Dolphin. Even though it was summer, the water was bloody cold and we had to don long-sleeved 5-millimeter-thick wetsuits in order to get in the water. Brrr!

The dolphins were a bit shy and the water was murky so we didn't get too many photos, but we did see them! It was pretty awesome. The tour operators encouraged us to sing to them to get them to come close to us. I think it worked to some degree!
After Kaikoura we headed south, where we happened upon fields and fields of amazing wildflowers. We must've been there at the right time of year, because they blanketed the ground for miles and miles. They also smelled incredible!



Soon we entered Mackenzie Country and the scenery became really dramatic. Towering snow-capped mountains appeared.  New Zealand also has these amazing turquoise lakes unlike any mountain lakes we've seen. The water seems slightly milky-opaque due to "rock flour", tiny particles of rock that come from the glacial run-off and are suspended in the water. The color is stunning.



And of course, you can't go too far in New Zealand without encountering sheep… did you know there are more sheep than people down there?!



Jeff was really looking forward to checking out the observatory at Mount John near Lake Tekapo. After seeing the big expanse of clear skies during the day, we were really looking forward to what awaited us at night!


And well, the southern night sky and its multitude of stars was truly awesome.  Below you can see Orion break dancing! At least according to the ancient Kiwi myths. :P


After Lake Tekapo, we continued upwards toward the Southern Alps, to the highest peak in New Zealand, Mount Cook… known to the native Māoris as "Aoraki".



The stormy weather made for some very dramatic landscapes.


To get a proper view of Mount Cook Village, we put on our hiking boots and strapped on our backpacks for a walk.

There's more to come so check back soon for Part 2. Share your thoughts in the comments!