If you enjoyed Part 1 of Febien and Michael's wedding, you're going to love Part 2! The entire guest list joined us at the University of Sydney for some fun group shots and then looked on while we took some romantic portraits.  It was fun that all of the guests got to take part in the entire day, including the portraits. Since it was such a small wedding, Jeff and I really felt like we got to know everyone and it was pretty awesome! Everyone made us feel so welcome and like we were almost guests ourselves. It was really a privilege to capture such a beautiful day!
The guests got the royal treatment as they disembarked from the limo onto a red carpet.
The University of Sydney quad is such a beautiful location with its warm sandstone, tall archways and long hallways. I love some of these shots so much I could hardly contain my excitement while post-processing them!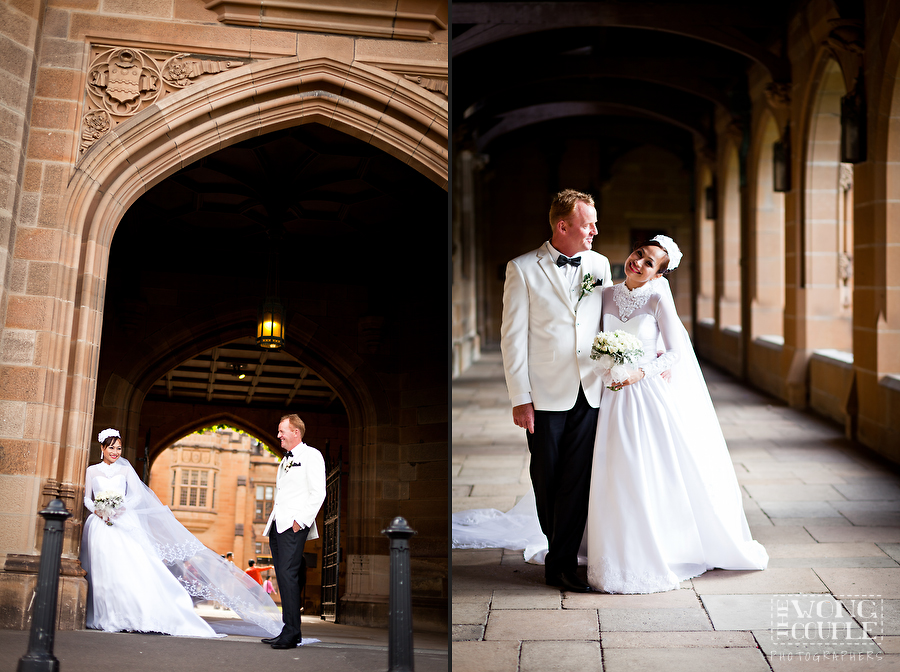 Such a fashionable group!




Love this shot of the whole group:



Febien's veil was such fun to photograph. The wind kept picking it up in beautiful sweeping lines. Jeff took this shot and it's my favorite portrait of bride and groom from the day. I absolutely adore it!

Stunning!

And here is one that I took—it's my other favourite portrait from the day. Gorgeous light, gorgeous bride, perfect breeze! Love, love, love!


After the University of Sydney, it was time to move on to the reception at the Sir Stamford Hotel at Circular Quay. We snapped a few portraits outside and in the lobby before heading into their private reception space in the Prince Albert Room.


Jeff took this amazing photo of the bride and groom sneaking a kiss:


The Prince Albert Room was set up for a romantic candlelit dinner. It was absolutely beautiful!


Febien had chosen a beautiful perfectly white cake to go with her all-white theme.




Of course, we had to get a few close-up shots of Febien and Michael's rings. I love the design!



The food was delicious. The guests (and Jeff and I too) were treated to dessert PLUS wedding cake. That's my kind of menu!



Everyone toasted the happy newlyweds, and then of course it was time to dance!










Thank you, Febien and Michael, for letting us share in the joy of your wedding day. We loved being a part of it and we hope the photos serve as happy reminders of a wonderful day for the rest of your lives!
Friends and family can see the rest of the photos in Febien and Michaels private galleries: Part 1, Part 2, and Part 3.