As we mentioned in some previous blogs, we were completely excited to get to travel to Queensland, to the lovely riverside city of Brisbane to photograph the final chapter of Niru and Charlie's wedding! We met up with them in their gorgeous suite in the Stamford Plaza Hotel on the Brisbane river. It was a bit of a grey day in the city, but spirits were high! They were already married, of course, so no ceremony was planned for the evening—just a lot of fun, dancing, eating, and celebrating with their family and friends who weren't able to make the journey to Sydney (plus quite a few who hadn't had enough partying yet)! Niru and Charlie got ready together in their hotel which was a lot of fun to capture. I loved Niru's sparkly accessories!
Niru had a non-traditional sari with beautiful embroidery and fun tassels ready for the occasion.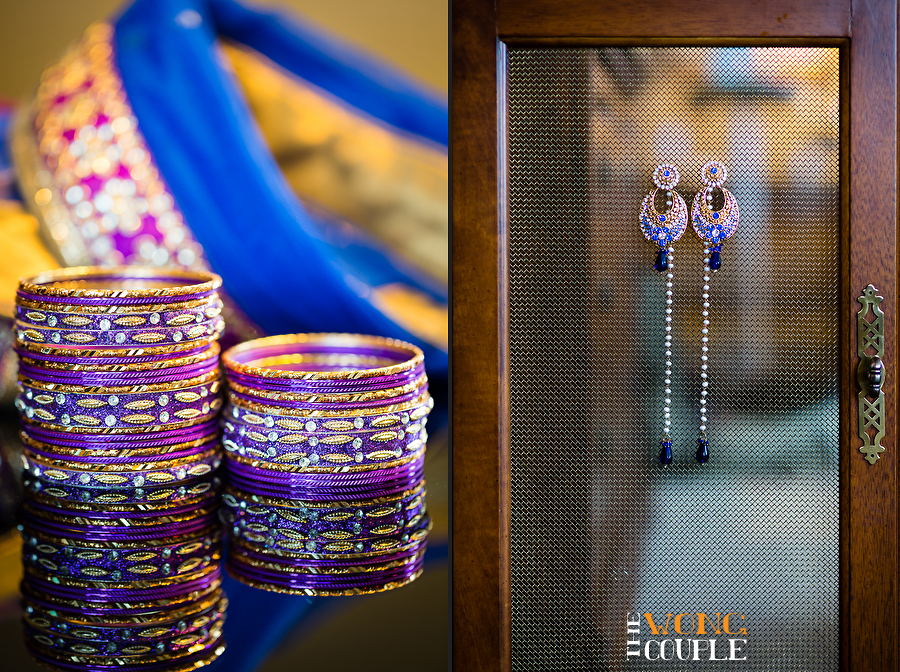 The boys had fun hanging out and helping Charlie get dressed.











Niru and Charlie were looking pretty sharp and ready for an evening of dancing and partying!

We don't get to capture a bride and groom getting ready together very often, so it was a fun experience.




Charlie helped Niru put on her ankle bracelets—very cute, guys!

Niru, you are completely stunning!


Now that they were all dressed to the nines, we headed out for some portraits at the very cool Brisbane Powerhouse. Niru and Charlie wanted something a bit non-traditional, hip and urban, and the dilapidated backdrop of the Powerhouse fit the bill:


You guys are the cutest!





With such a grey rainy day, we were definitely not expecting the clouds to break up right at sunset… but oh boy did the sky put on a show for us!


The park, the skyline, the sunset… and the couple… it was just perfect!

Love love love!

Our jaws had dropped with the sunset… but when we got to the Brisbane Convention & Exhibition Centre and got to see the amazing setup for the party, our jaws dropped even more! When Niru saw it for the first time, she let out squeal of delight. It was truly beautiful.

The super-cool light-up ceiling bathed the room in beautiful purple hues. The purple shimmery linens, the white chivari charis, and the centrepieces with purple orchids and candles hanging in glass globes went together perfectly. So gorgeous!


Each place setting also had a golden charger that was just perfect with the colour scheme.


Their macaron cake was beyond amazing! It was huge and smelled soo divine.


The ambiance was so dramatic and lush.


After some cocktails outside, it was time for the guests to make their entrance.


One of the first orders of business was a little video for the guests. Niru and Charlie hired the lovely team at Rolling Canvas Presentations, who captured all four days' worth of events alongside us. Their team did a fantastic job! Before the wedding day, they got together with our bride and groom to create a fun pre-wedding video about how these two first met. It was absolutely hilarious—check it out for yourselves here.





Niru and Charlie were treated to many wonderful speeches made by their nearest and dearest.









I mentioned before that I love Niru's facial expressions… there were some truly fantastic ones during the speeches, especially during her brother's speech! ;)




Our bride and groom also made a touching speech, thanking everyone for all that they had contributed over the many days of celebration.







Niru and Charlie had a beautiful dance choreographed for the two of them…


…and then they had a big surprise for their guests! The groomsmen suddenly joined in on the dance floor in the beginning of what was to become a huge flash mob! This amazing dance went on for quite some time and was all elaborately choreographed—we were so impressed! Check out some of their cool moves:




Of course our playwright groom had to incorporate some "scenes" into the dance to tell a story. So fun!



Even Niru's father joined in on the continuing dance for a father-daughter number. We just love father-daughter dances!


This amazing dance finished with all the "cast" on the dance floor. Some real talent and clearly an amazing amount of effort went in to creating this performance. Well done, everyone!


The dance party really kicked off with every single guest on their feet!








The bride and groom left amid lots of hugs, cheering and clapping… what a memorable night.

Jeff and I had a wonderful time in this beautiful city on the river. We spent the rest of our time in Brisbane seeing the sights, riding the river ferry, and sampling some local restaurants. We were so honoured to have been a part of the happy beginning of this marriage! Thank you, Niru and Charlie, and may you celebrate and sing and dance together for many, many years to come. Friends and family of Niru and Charlie, leave a note for the happy couple below and let us know what you think of the photos! We'll notify you when the full gallery of images is ready to view online.