Remember Heli and Shaun from our fun and spacey engagement shoot in Olympic Park? Today, we are really excited to finally give you a glimpse of their amazing science-fiction themed wedding! Heli and Shaun put so much thought and creativity into their big day, so we've been eager to share these images that showcase all the awesome, hilarious, creative and personal details, their hard work on all the DIY elements, and of course, the people involved—Heli and Shaun's amazing friends and family, some of whom got really into the theme! But before we blast off into the outer reaches of the galaxy where their reception took place, we'll start off at Heli and Shaun's home, where they were getting ready together for their big day.
Unfortunately, sometimes things don't go as planned on a wedding day. When two people decide to spend their lives together and support each other, in sickness and in health, they don't usually expect to be starting on the "in sickness" part on the very morning of their wedding. Our beautiful bride and handsome groom had to deal with this very thing on their wedding day, with a family medical emergency on the morning of the wedding and then Heli herself dealing with a sudden bout of stomach flu that she came down with during the morning preparations. But even with these setbacks, these two took it all in such stride. The way Heli and Shaun supported each other throughout the day and focused on the positive, and the way all their friends and family rallied around them was truly inspiring.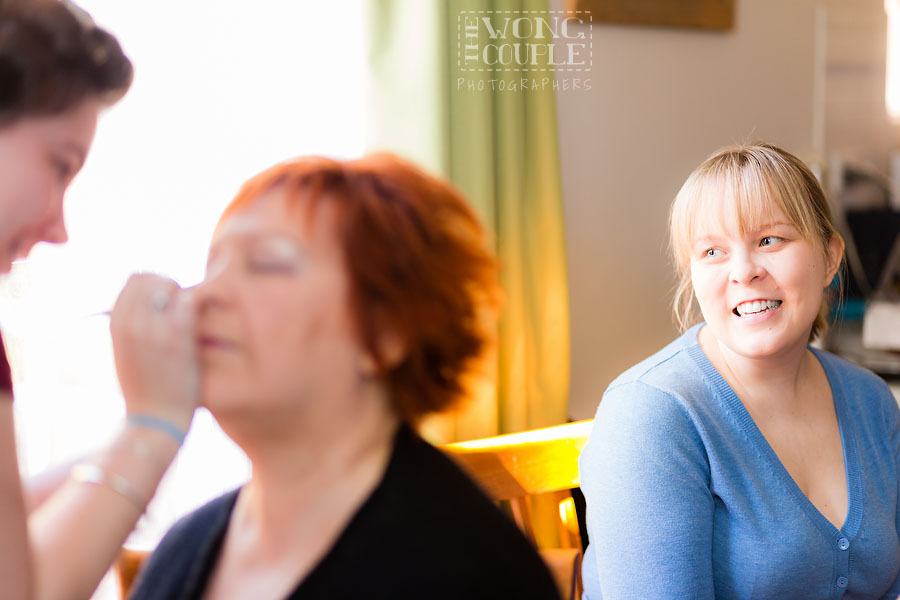 Carly of Mobile Wedding Hair Sydney was amazing. She was such a sweetheart and did such a great job on the ladies' hair, and even brought along this hilarious hair-drying device that I thought was, coincidentally, quite thematically appropriate!


Heli's wedding dress was truly amazing. She had quite a specific idea in mind with what she wanted for her wedding dress, and only a custom-made piece would fit the bill.

Heli found an expert dressmaker here in Australia who could bring her turquoise corseted dream creation to life: Vicky Kidd-Gallichan from Rockstars and Royalty. Vicky is located in Canberra, and so over the last year, Heli and Shaun took six trips to Canberra together to visit the dressmaker for the design and fitting process. Vicky is truly skilled and the dress was absolutely stunning.

During each three-hour drive to Canberra, it became a bit of a tradition to stop over at the Big Merino.  On their final drive through, Heli decided she had to buy this cute plush version of one of Australia's "big things". Haha! What an effort to get such a beautiful dress, but as you'll see later, it was worth it!



Heli's hair was shaping up to look amazing!





Heli ordered these cool handmade fabric and button bouquets on Etsy.

Shaun's cufflinks here have to be just about the coolest cufflinks I've ever seen! What a perfect detail for their turquoise sci-fi theme!


I love that Shaun managed to get a Starfleet communicator to wear on his vest. A perfect accessory!



Heli's friend did an amazing job on her makeup.  I can't get over Heli's beautiful blue eyes—they are so stunning!


Speaking of eyes, both of Heli's bridesmaids also have absolutely stunning eyes. So striking!

After all the careful drying of this beautiful hairdo, I never expected Carly to do this to it!  Shows how much I know about hair styling…

At this point our beautiful bride was starting to feel too sick for photos, so we let her rest while we headed downstairs with the groom and the bridal party for a few portraits. They just happened to have this nice little park just down the road. What a handsome groom!






I love these two shots—the one of the boys above, and the whole group below! Looking good everyone!

Our next stop was the beautiful venue of Sergeants Mess in Chowder Bay. What a beautiful winter day it was!

Thankfully Heli was feeling well enough to pose for a few portraits at the venue. She was such a trooper and had such poise throughout the day!  You can't even tell that she was not feeling well. She looked completely gorgeous in her gown and birdcage veil.


Heli, you were a truly stunning bride!


These red chairs and mirror are a really cool feature at Sergeants Mess.


I love these—a beautiful quiet moment shared between bride and groom before they walked down the aisle.

Meanwhile, the guests were arriving outside, and some of them had gotten really into the theme! Even the Dark Lord of the Sith himself could make time for this special occasion. Soo awesome!



Chewbacca and Trinity, now happily married, also made the wedding! Such awesome costumes!


The ceremony site looked beautiful in lovely sunset light.



The walk down the aisle was very appropriate for Heli and Shaun. They played a rocking song, and walked down the aisle together as all the guests cheered them on!





The ceremony was so beautiful with many personal touches (and of course sci-fi references) throughout.




The most important part of the ceremony for Heli was the ring warming. Heli and Shaun's wedding rings were passed around to all of the guests, and each guest took a moment to hold the rings and make a silent wish for the bride and groom. It was very touching.





As the temperature dropped, Heli took a moment to go and warm her grandmother's hands. Such a sweet moment!






And they were married!


We can't WAIT to show you all the amazing details from the reception… stay tuned for Part 2, coming to the blog soon. In the meantime, leave a note in the comments to let us know what you think of this fantastic wedding!