If you loved Part 1 of Heli and Shaun's amazing science-fiction themed wedding, you're going to just die over all the incredible details from their nerdtastic reception! Well, it's time to set a course for the Heli and Shaun nebula. Ensign? Warp 9. Engage.
Sergeants Mess was beautifully decorated with so many details made by Heli and Shaun themselves. One of my favourite elements was the large black backdrop that they hung across one wall. The backdrop was covered with tiny pin lights, simulating the observation desk on a starship! Awesome.
Being aboard a spaceship, and having ordered their cake from a distant part of the galaxy, Heli and Shaun's cake would of course have to be delivered by wormhole. Fortunately, it emerged from their on-board Stargate just in time for the festivities! How amazing does this look?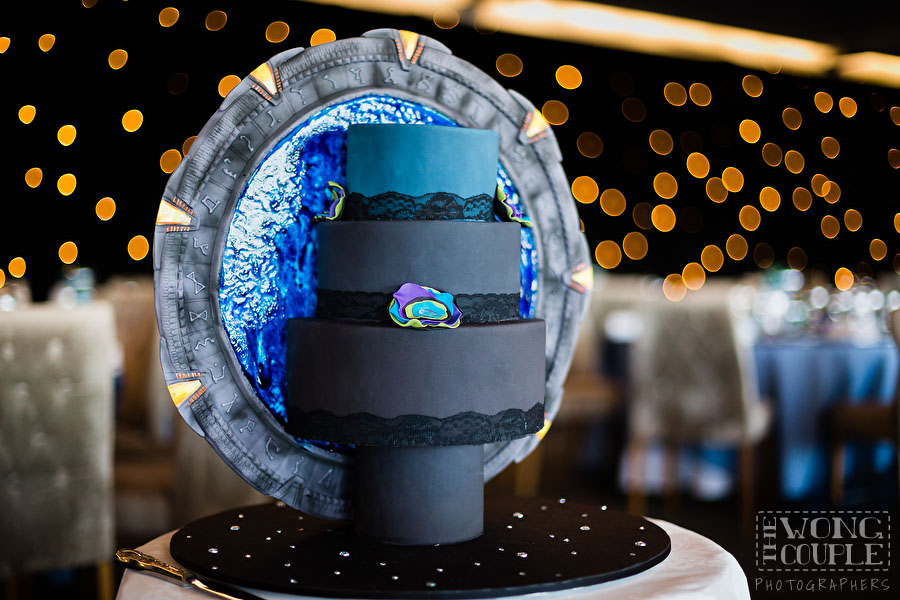 I was amazed at this incredibly detailed seating chart that our bride and groom had put together. Each table was given the name of a spaceship from various sci-fi films and novels. This work of art was fittingly mounted into a big frame. It looked fantastic!

Heli and Shaun's attention to detail really came across in the individual seating cards. Each guest had their own personalised character name or Starfleet job title, some with inside jokes like this one!


And this detail here just might be my favourite of all. Each table had a copy of this hilarious menu, including items such as Soylent Green, Klingon Rokeg Blood Pie, Vulcan Plomeek Soup, and the best one of all: Ameglian Major Cow. If you haven't read The Restaurant at the End of the Universe, a novel in the Hitchhiker's Guide to the Galaxy series, the Ameglian Major Cow is a cow that has been bred to want to be eaten (and is capable of saying so). Heli and Shaun added to their menu, "Available to discuss his tastiest body parts post payment." Haha!

This fun thumbprint guestbook was also ready and waiting for guests to sign.





Captain Picard also made it to the reception, despite still being part Borg. Good effort, Captain!




Once it was dark, the venue took on a magical mood.


The centerpieces were all fit with blue LED lights, creating a dramatic and very spacey glow!



Heli and Shaun entered their reception in true sci-fi style. But don't worry, the phasers were set to stun. ;)


A sci-fi wedding would not be complete without some tricorder scanning…


Another spaceship floated by while the guests partied away. Good thing it wasn't a Borg cube!

It's nice to see the forces of both good and evil coming together and setting aside their differences for such a special occasion.

Heli's mother moved all the guests with her touching speech.



The groomsmen and bridesmaids kept everyone entertained with lots of fun stories!










When it came time to cut the cake, I think Shaun was still a bit reluctant to ruin the beautiful creation! I absolutely love their expressions!








While the adults partied away, the young padawans practiced their light saber dueling and light-jump rope skills!







All the guests got to go home with some of these cool personalised dice! Awesome!

Of course we had to end the night with a beautiful panorama. I just loved what the clouds were doing this night. Looks like there might be a Bird of Prey or Romulan Warbird hanging around up there! Click to view this one bigger.

Heli and Shaun, we absolutely loved being your photographers. Thank you for inviting us to be passengers on your very cool imaginary spaceship.  Since you know we are both serious sci-fi fans ourselves, you know that we are 100% serious in our wish for you both: May you live long, and prosper.
Friends and family of Heli and Shaun, leave a comment below with your email address in the email field to be notified when the full gallery of images is online. Or, just leave a comment for the happy couple and let us know what you think of the photos!