Ben and Manasi's guests witnessed a beautiful ceremony in Part 1 of their wedding, but they were really in for a treat when it came to the vibrant, colourful Doltone House reception that was in store! After their ceremony at St Steven's Uniting Church, we walked across the street for some bridal party photos at the Sydney Eye Hospital. You wouldn't normally expect any kind of hospital to be an appealing place for wedding photography, but the grounds of this unique and historic hospital are actually quite photogenic—and also in this case, extremely conveniently located! We had just enough time for a few shots right at sunset, and the light was beautiful!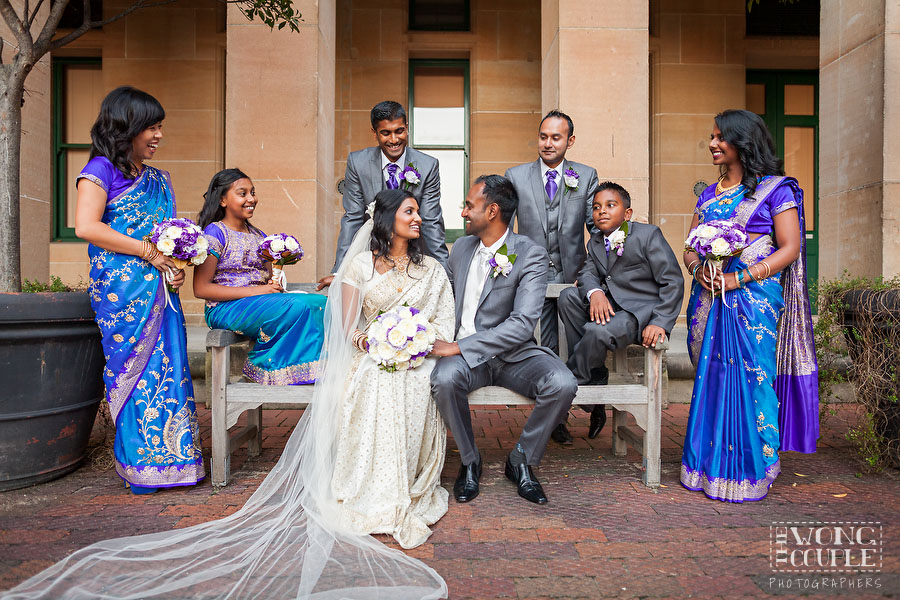 We then hopped in our cars and headed south to the grand Doltone House in Sylvania Waters for the big reception. The upstairs reception hall was decked out beautifully in a fuschia, violet blue and gold theme. The amazing, towering floral centerpieces were topped off with peacock feathers. What a gorgeous colour palette!








Their cake by Faye Cahill was a work of art and matched the theme perfectly!

Just before the guests entered the hall, Manasi was busy changing into another sari—this time a stunning purple fuschia sari with a slight irridescent sheen to it. Doesn't she look amazing?


The MCs for the night greeted all the guests in the now full reception hall as we awaited our stars of the evening.


And out they came!



What a gorgeous bridal party.

Like so many of the weddings we've photographed recently, there was a long lineup of beautiful, heartwarming, funny, touching speeches.

















It must have been a bit hard to cut into that stunning cake!


Ben and Manasi treated their guests to a delicious buffet of vegetarian Sri Lankan food. YUM! Dig in everyone!







Ben and Manasi had a surprise video in store for us all. It was a hilarious little pre-wedding video skit made by Arian Film Productions that had their guests glued to the projector screens! Ben and Manasi were not above poking a little fun at themselves and the guests loved it!









After the long-awaited best man's speech, Ben and Manasi said some words to finish off a beautiful night full of wonderful stories, groom-roasting, reminisicing, laughter and well-wishes.



But these two had one last surprise to reveal. During Ben's speech, he joked about falling in love with a beauty from Brisbane whom he discovered through the internet. No, it was not Manasi, but rather the lovingly restored beauty you see below!



Ben and Manasi managed to sneak this car into the venue's ground floor during the reception. When the guests came downstairs to give their final farewells, they saw how the bride and groom would be making their escape. Now this is a getaway car!





A huge congratulations to you, Ben and Manasi! We feel so privileged to have been a part of your amazing wedding. Wishing you our very best wishes for your new lives together in Melbourne!
Friends and family of Ben and Manasi, leave a comment below (with your email in the email field) and we'll let you know when the rest of the photos are ready online for viewing.