We're going to take a break from travel blogging and share with you a fun post-wedding/honeymoon/trash-the-dress session! Last June, we travelled back to Los Angeles for the beautiful wedding of my brother-in-law Richie to his gorgeous new wife Kathy. Their wedding was huge, amazing, tons of fun and beautifully captured by The Youngrens, who as you may remember, photographed our own wedding! For part of their honeymoon, Richie and Kathy decided to come visit us in Sydney. So, just like my parents, a big thanks to Richie and Kathy for being so patient waiting for these photos. Kathy decided to bring along her wedding dress—which filled an entire suitcase—and we think it was definitely worth it! We love the idea of a post-wedding or "trash the dress" session (although as evidenced here, you definitely don't need to literally "trash" it)! After all, when are you going to get to wear that beautiful gown again? Richie and Kathy liked the idea of some urban photos, so we took a jaunt through Martin Place.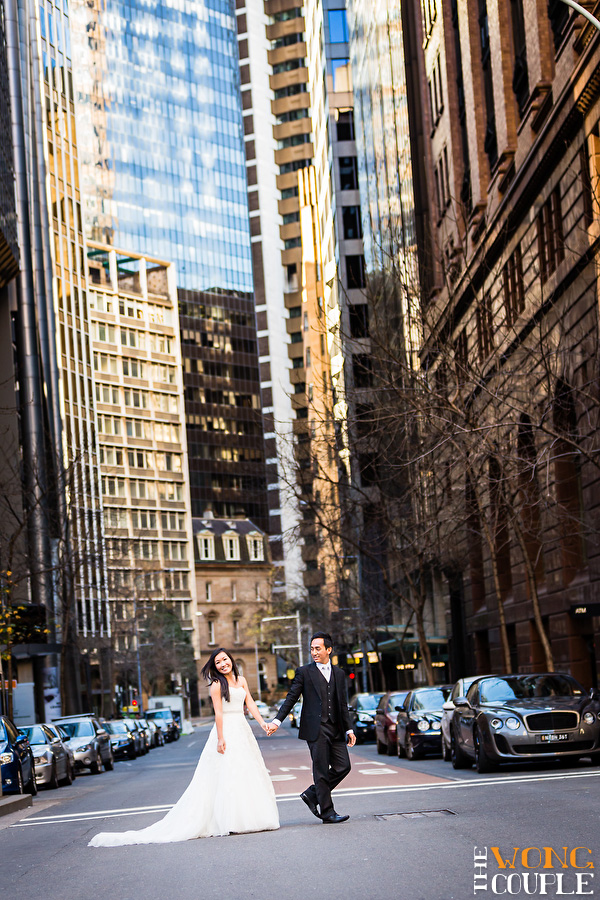 Now that Richie and Kathy are happily married, I can share a funny story with you (and them). If you look closely at our own wedding photos, you'll notice that Kathy helped out with the officiation—she translated our whole ceremony into Vietnamese for our Vietnamese-speaking guests. At the time that Kathy agreed to do it, Jeff jokingly said to me, "She's going to be in all our photos, so they better get married now!" To which I laughed and said, "Of course they're going to get married. They're perfect for each other!" It always seemed obvious to me that Richie and Kathy would tie the knot. Ever since he met Kathy, Richie has just seemed high on life. They share much in common, but also love to share in finding new hobbies and having new experiences together. They're the kind of couple who frequently send syrupy-sweet facebook notes to each other that just make you wanna go "awwww." They also sing pretty well in duet, too! Check out this amazing song they recorded for their wedding, written and composed by my other talented brother-in-law, Steven. These two just make each other deliriously happy, and it is so wonderful to see!
This epic hallway was just perfect for Kathy's gorgeous full Pronovias ballgown and cathedral-length veil. I love the dip!
So grand and elegant!


I just love the way Kathy's train looked blowing in the breeze. Richie was looking pretty sharp, too!


Don't they make such a cute couple?


Looking very handsome, Richie!



Adorable!


One of my favourites here! Love this one in the crosswalk.

Of course, walking down to the Opera House was a must for these honeymooners.


Kathy, you are just stunning!


More of my favs!


This wintery sunset turned out to be beautiful, despite any clouds in the sky. It was chilly, but the light was so deliciously warm.


I just love these – how Kathy's dress glows in the light. Beautiful.


We waited for the city lights to come on to capture a classic skyline panorama.

Click on this one to view it larger!

Once the session was over, we decided to go for a celebratory drink at Altitude Bar, top of the Shangri-la Hotel– one of our favourite places to take visitors for a drink.

Richie and Kathy, it was so lovely having you visit in our neck of the woods during your special honeymooon. We wish you a lifetime of happiness together and look forward to many more travels and future family gatherings!